A bra calculator can be used to help determine bra size. The big caveat is that most bra calculators are absolute garbage; they're so bad as to be completely useless.
How to tell if a calculator is inaccurate
Edit
Signs of a bad bra calculator include:
If it tells you to measure your "overbust", or under your armpits
If, in UK and US calculators, the band size is several numbers larger that the number you put as your ribcage or underbust measurement (ex: Your ribcage measures 38 but the calculator tells you to wear a 42)
If, in EU/JP calculators, it says the number you measured your ribcage as is the same as your band size (ex: your ribcage measures 65cm, and the calculator says to wear a 65). The EU/JP sizing system has "plus four" built into it
Bra fit calculators
Edit
There are a few fit calculators that yield accurate results.
[1]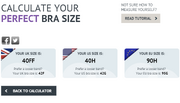 References
Edit
Ad blocker interference detected!
Wikia is a free-to-use site that makes money from advertising. We have a modified experience for viewers using ad blockers

Wikia is not accessible if you've made further modifications. Remove the custom ad blocker rule(s) and the page will load as expected.