The Bratabase is a user-built index of bra measurements, styles, and fit reviews.
As of December 2013, Batabase has had over 20000 bras entered into its database[1], over 4000 bras listed in the marketplace,[2] and over 700 fit requests.[3]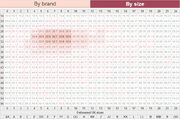 The website has a community where a user can lend and/or receive advice, through fit requests, bra adventures, sizing help , and online and offline recommendations. Bratabase has its own marketplace, where users can sell, swap, and give away bras and swimwear to other users.
In March 2014, Bratabase announced a new website feature called the "Cup Index".[4] The Cup Index is designed to make it easier to determine what size a bra is without needing to convert each company's sizing system.
External links
Edit
References
Edit
Ad blocker interference detected!
Wikia is a free-to-use site that makes money from advertising. We have a modified experience for viewers using ad blockers

Wikia is not accessible if you've made further modifications. Remove the custom ad blocker rule(s) and the page will load as expected.