How-to alter a bra
Comments

3
131pages on
this wiki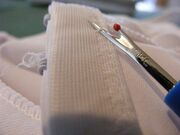 Knowledge as to how-to alter a bra for better fit is a skill that can come in useful if bra selections are limited for any reason, or if a bra simply doesn't fit anymore. There are band tightening and underwire modification tutorials available online.[2]
Alter band size
Edit
Shorten band
Edit
Occasionally, a bra's cup may fit the correct breast volume, but the band is too loose. For such a purpose, there are a few possible routes to follow which all affect overall fit in different ways.
Manually shorten the band:
Tighten the band with elastic.[5]
Use a Rixie Clip.[6]
Lengthen band
Edit
Sometimes, a bra's cup volume may be perfect, but the band is too tight. Increasing band size is simple.
Alter cup shape
Edit
Sometimes, a cup may fit the breast in an uncomfortable or unflattering way. There are several ways to fix this.
Alter gore
Edit
Alter shoulder straps
Edit
The shoulder straps of a bra may require adjustment, due to discomfort, poor fit, or any number of reasons.
Decrease distance between straps.[13]
Alter underwire
Edit
Underwires can often become painful or prove problematic. However, with a little ingenuity, these issues may be fixed.
Fix underwire that pokes the sternum.[14]
Fix underwire that pokes the armpit.[15]
Fix uncomfortably straight underwire.[16]
Other alterations
Edit
References
Edit