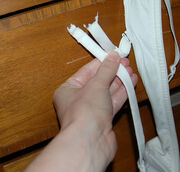 How-to know when to retire a bra is an important ability that a bra-wearer needs to ensure a bra's overall comfort from beginning to end.
Warning signs
Edit
A bra is worn out when it is no longer comfortable or well fitting:[2]
Over-stretched band that has lost all elasticity (no longer "snaps back" after stretching it out)
Molded-cups that have lost shape
Broken underwire
Poking underwire (possibly fixable)
Bra band rides around body even when fastened at the tightest hook
Band or cup contains holes
Hook-closures are broken or bent
Breasts are no longer supported and droop
Back pain
References
Edit
Ad blocker interference detected!
Wikia is a free-to-use site that makes money from advertising. We have a modified experience for viewers using ad blockers

Wikia is not accessible if you've made further modifications. Remove the custom ad blocker rule(s) and the page will load as expected.