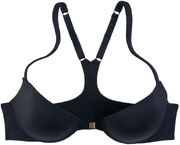 A racerback bra, also known as a t-back bra, y-back bra, or x-back bra, is a bra style with straps that form a T, X, or Y shape on the back, as opposed to being parallel with the wearer's body. This style can offer more back support, as well as prevent bra straps from showing under certain clothing.
Main article: Sports bra
Many sports bras come in the racerback style, because it can offer more back support, which is helpful when engaging in athletic activities.
Main article: How-to choose a bra for problem clothing#Racerback
It may also prevent bra straps from showing under clothing for fashion purposes, such as under racerback tank tops, dresses, or shirts.
Racerback tank tops pose the problem of running inwards, toward the center of the back, exposing the back of a bra's straps. They typically do not run low enough to expose the bra band.
References
Edit
Ad blocker interference detected!
Wikia is a free-to-use site that makes money from advertising. We have a modified experience for viewers using ad blockers

Wikia is not accessible if you've made further modifications. Remove the custom ad blocker rule(s) and the page will load as expected.