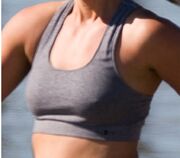 A sports bra, also known as an athletic bra, jogging bra, or a running bra, is a bra that offers additional support during more strenuous physical activities. These bras work by reducing the movement of the breasts, thereby minimizing pain or discomfort.
A binder may be used for athletic purposes similar to a sports bra, but the two are not the same.
Manufacturers and products
Edit
Bravissimo

Inspire Sports — 28-38; DD-K
Enell

Various — ?
lululemon

TaTa Tamer — 32-38; C-DD
TaTa Tamer II — 32-38; C-DD
Moving Comfort

Various — A-E
Sports Bra — 28-40; C-GG
Royce Lingerie

Impact Free — 28D-40J
Shock Absorber

Active D+ Classic Support — 30-40; D-G / 32-38; GG-H
Title Nine

3-Reasons Support Bra — 32C-40DD
References
Edit
External links
Edit