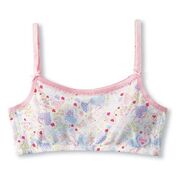 A training bra is a bra designed for young women who are just beginning the first stages of puberty, when one's breasts are still too small to fit into standard cups. They're usually lightweight pullover bras, with gentle elastic band and soft cups,[2] and they aim to provide modesty and minimal support.[3]
Training bras
Edit
Training bras can be labelled by dress size, band size, or t-shirt size.
CC Girl
References
Edit
Ad blocker interference detected!
Wikia is a free-to-use site that makes money from advertising. We have a modified experience for viewers using ad blockers

Wikia is not accessible if you've made further modifications. Remove the custom ad blocker rule(s) and the page will load as expected.